DC The Best! Tour
The Best Washington DC Tour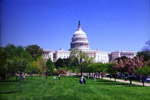 Jump on our new DC The Best! Tour. Â You'll see the best attractions in Washington DC, in a three-hour format! Â The best part is that your tour guide will hop off the mini-coach with you to see each attraction up close and personal. Â The other guys leave you on your own, or narrate your tour with a recording. Â We use the best live tour guides in Washington DC. We have selected the best attractions in Washington, and we'll show them to you in a quick and efficient tour. If you want to see the attractions in more detail, and you are interested in a boat cruise, we recommend the DC It All! Tour. However, if you have limited time in Washington and want to see the Best Attractions and Monuments, this is your tour!
The DC The Best! Tour stops at these attractions:
The US Capitol — Best Building
The White House — Best House
The Old Post Office — Best Observation Tower
Lincoln Memorial — Best President
MLK Memorial — Best New Memorial
Iwo Jima — Best View of DC
Vietnam War Memorial — Best War Memorial
Korean War Memorial — Best Statues
You will also see all of the following sites from the comfort of your climate-controlled mini-coach:
Jefferson Memorial, World War II Memorial, Washington Monument, Canadian Embassy, Smithsonian Museums, National Archives, Arlington Cemetery, National Archives, Kennedy Center, the Watergate Complex, and More!
This tour departs from the Old Post Office at 12th Street & Pennsylvania Ave at 10:30am and 2:30pm everyday. Tickets are $44.99 for adults, and $34.99 for children under 12 on Monday through Thursday, and $49.99/$39.99 on Friday through Sunday.