ICE at Gaylord National Resort
Winter at Gaylord National Resort's ICE!
(Visit www.ChristmasOnThePotomac.com; The Gaylord National Resort & Convention Center at National Harbor)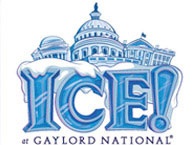 The ICE! exhibit at Gaylord National Resort is a winter wonderland created entirely of 5,000 giant blocks of ice which weigh approximately 1.5 million pounds and are hand-sculpted by a specialized team of international artisans from a world renowned province of China. The attraction is maintained at a freezing nine degrees Fahrenheit and allows visitors to roam around and inside of famous holiday scenes. The ten stunning ice crafted scenes include a South Pole igloo with dancing penguins, Santa's Toyland, A Christmas Castle, A Nativity Scene with a 25 ft. angel and a Victorian style frosted forest with a frozen river and horse and sleigh. In addition, guests are loaned oversized winter coats for maximum comfort.
The impressive artisans who will create Gaylord National's ICE! are from Harbin, China, a city in northeast China's Heilongjiang Province that is world-famous for its annual Harbin International Snow and Ice Festival. Every winter, more than 2,000 sculpture artists carve a massive, 100-acre walk-through Ice Park and a full-size Ice City from blocks of ice taken from the nearby Songhua River. Gaylord National Resort will bring 40 of Harbin's most talented master artisans to the U.S. to showcase their amazing talents in creating this one-of-a-kind attraction. They will arrive in mid-October, staying onsite for more than 30 days, to build and hand-carve the attraction in time for its debut.
Nightly Entertainment at the Gaylord National Resort
Every evening at 6 p.m. the giant tree in the atrium is lit up with a light performance, Christmas music and a 60 ft dancing fountain. There is also a gorgeous snow fall inside the atrium which occurs twice a night along with a nightly performance from The Voices of Gaylord National Christmas Choir (a magnificent 75-voice choir). End the evening with the Brightest Star Fountain Show which features a sweet narration of the classic Christmas story and is choreographed with dancing water and special effects.
Kick-Off Celebration of Christmas on the Potomac
(Gaylord National Resort Atrium)
The kick off event at Gaylord National Resort will be an amazing spectacle which includes fireworks, musical performances, an indoor snowfall, a laser light show and a number of other surprises.