George Washington's Mount Vernon Estate
Written by Sarah Worthy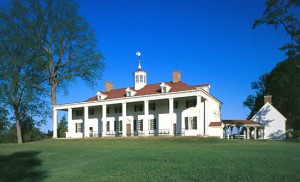 While you are in Washington D.C., you must make the time to visit Mount Vernon Estates.  The mansion is set on 8,000 acres near Fairfax, Virginia and was the home of George and Martha Washington from 1759, when they were married, until 1799 when our first president passed away.  The estate was purchased by the Mount Vernon Ladies' Association in 1858 and opened to the public for tours in 1860.  It has received more than 80 million visitors since then.
Tours of the mansion include the more than a dozen outbuildings on the grounds such as the quarters, kitchen, stables, and a greenhouse.  There are four different gardens, a Forest Trail for hiking and a 4-acre working farm called the Pioneer Farmer site.  You can also visit the tomb where George and Martha Washington have been laid to rest.  Mount Vernon was originally created to be a fully self-sustaining estate and so it had all the necessities required for the residents in Washington's day to live in comfort without needing to leave the farm for supplies.
A visit to this gorgeous farm out in the country of Virginia will be like a trip back in time to the days when the Unites States was still a blossoming country full of dreams and hope.  This is a must-see experience. Check out our Mount Vernon Tour.